CBD dermatological bath oil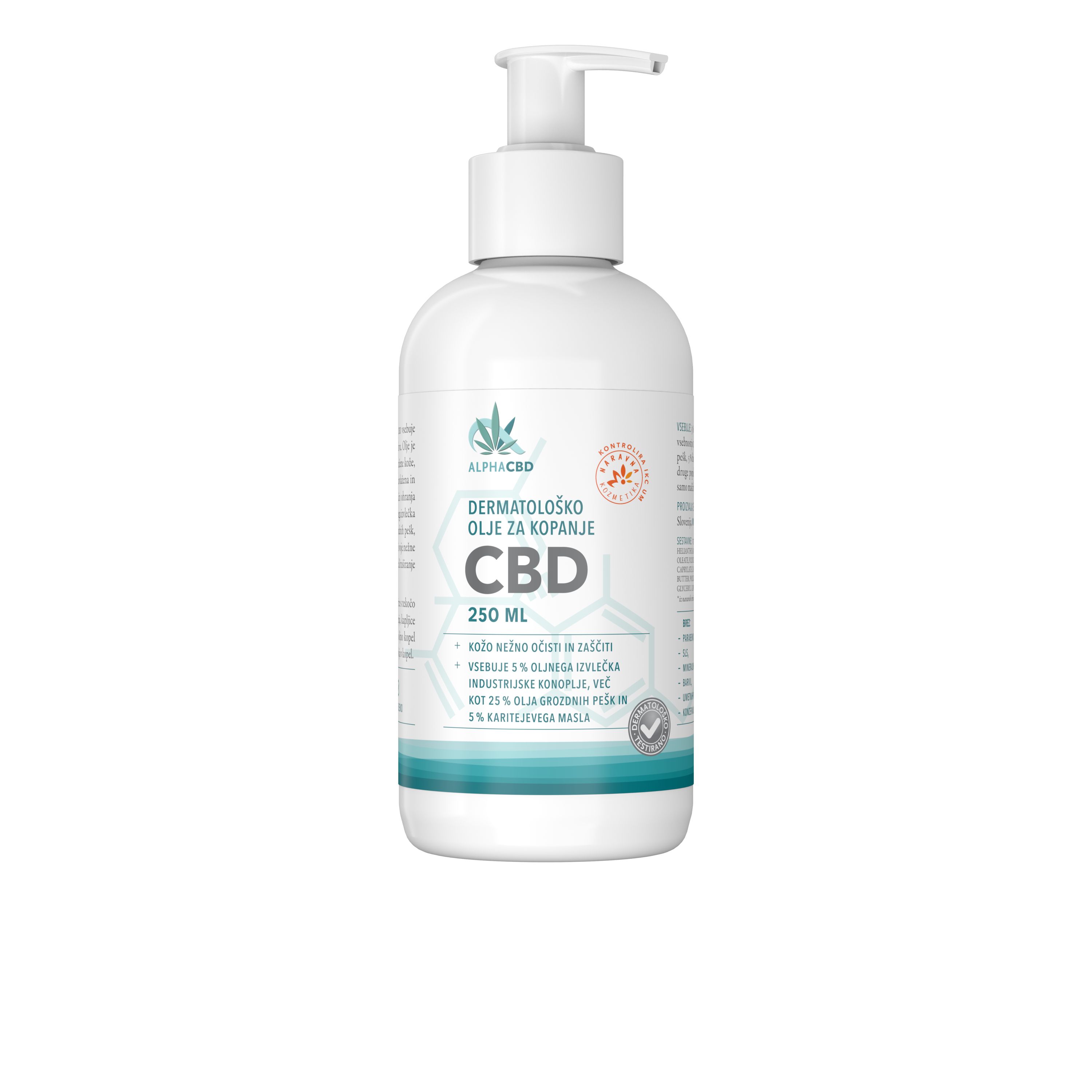 CBD dermatological bath oil
This bath oil contains gentle purifying agents intended to soothe sensitive, dry and irritated skin.
+ 100% EFFICIENT AND NATURAL SKIN CARE
+ DERMATOLOGICALLY TESTED (PROVEN NOT TO IRRITATE SENSITIVE SKIN)
+ GENTLY PURIFIES AND NOURISHES YOUR SKIN
PRODUCT DESCRIPTION
This CBD dermatological bath oil only contains natural fats and gentle purifying agents. The oil does not dry out the skin and is therefore appropriate for everyday use on dry, sensitive, and irritated skin. Due to its gentle components, adults, children, and babies alike can use the oil for bathing and showering. After the bath, your skin will be well moisturised and slightly oily, which allows the oil to maintain the good condition of the lipid layer.
COMPOSITION
5% industrial hemp oil extract with high CBD (cannabidiol) content, more than 25% grapeseed oil, 5% bio shea butter, bio jojoba, bisabolol and other completely natural fats. The product contains no water, only fats.
USE
Apply the oil to your body and rinse it off under running water. Make sure not to dry the skin with rubbing – only pat it dry. You can also prepare an oil bath for babies by putting up to 5 drops of
the oil into the bath water.
DOES NOT CONTAIN:
– PARABENS,
– SLS,
– MINERAL OILS,
– COLOURANTS,
– ARTIFICIAL PERFUMES,
– PRESERVATIVES.
Product type


Effect

PLANT EXTRACTS: CBD industrial hemp oil extract with high CBD (cannabidiol) content
PLANT BUTTERS/OILS: grape seed oil, shea butter, bio jojoba
OTHER ACTIVE INGREDIENTS: bisabolol
VITIS VINIFERA SEED OIL, CAPRYLIC/CAPRIC GLYCERIDES, HELIANTHUS ANNUUS SEED OIL, GLYCERYL CITRATE/LACTATE/LINOLEATE/OLEATE (AND) POLYGLYCERYL-4 COCOATE (AND) POLYGLYCERYL-3 CAPRATE (AND) GLYCERYL
CAPRYLATE, CANNABIS SATIVA LEAF EXTRACT, BUTYROSPERMUM PARKII BUTTER, POLYGLYCERYL-3 CAPRATE, SIMMONDSIA CHINENSIS SEED OIL, GLYCERYL CAPRYLATE, TOCOPHERYL ACETATE, PARFUM*, BISABOLOL
* iz naravnih eteričnih olj