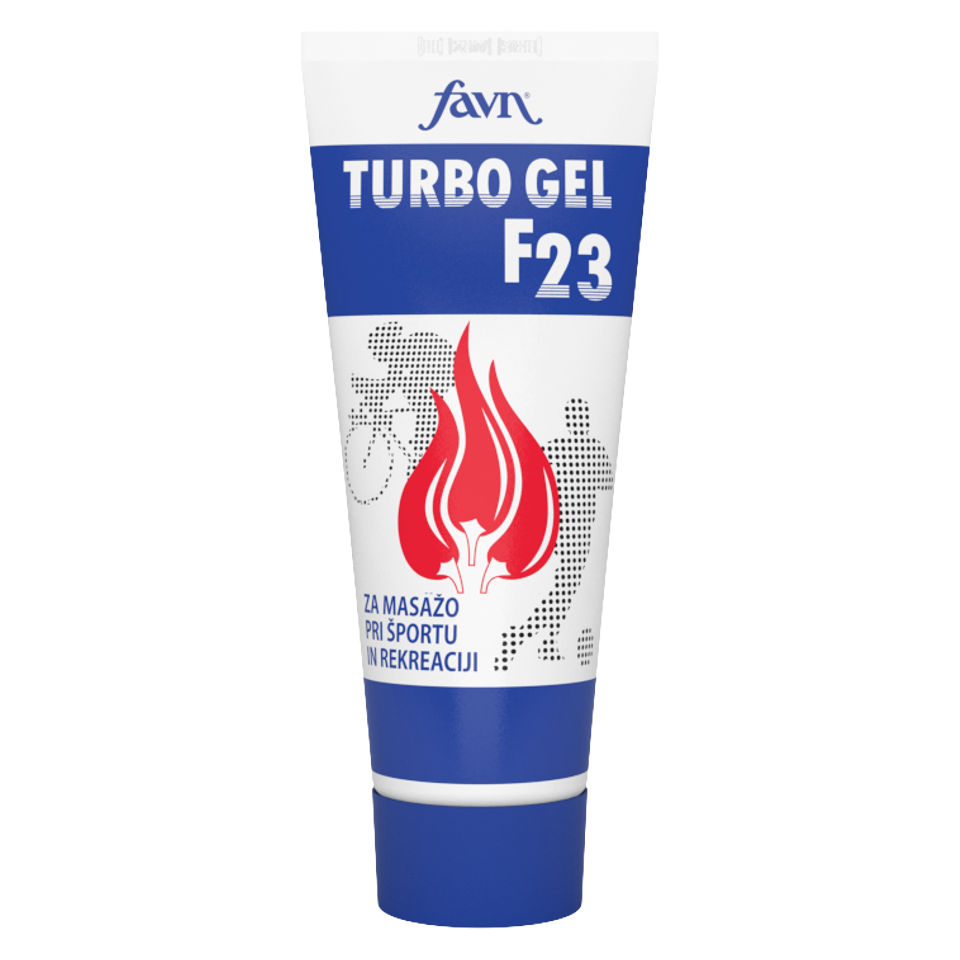 TURBO GEL F23 warm gel

Increases the local tissue blood-flow and improves the muscular strength.
TURBO GEL F23 is a massaging gel containing extracts of cayenne and black pepper, as well as essential oils of rosemary, peppermint, pine, eucalyptus and wintergreen.
It activates the blood-flow and soothes local pain. Due to careful selection of natural essential oils and herbal extracts, Turbogel F23 is highly effective with a prolonged activity. Keep TURBO GEL F23 away from eyes or other mucous membranes!
Brings back the endurance and the body power
Muscle warmer
Analgesic effect
Improves joint flexibility
Relaxing to muscles after physical exercise and sports
Product type

Gel

Muscles

Legs

Back

Joints
Effect





HERBAL EXTRACTS: cayenne pepper, black pepper, marigold
VEGETABLE BUTTERS/OILS: marigold oil,  st. John worts' oil
ESSENTIAL OILS: pine, eucalyptus, peppermint, rosemary, wintergreen
OTHER: methyl salicylate, menthol, urea, vegetable glycerin
AQUA, ALCOHOL DENAT., GLYCERIN, EUCALYPTUS GLOBULUS LEAF OIL**, MENTHOL, MENTHA PIPERITA LAEF OIL, METHYL SALYCILATE, PIPER NIGRUM EXTRACT, ROSMARINUS OFFICINALIS LEAF OIL**,CALENDULA OFFICINALIS FLOWER EXTRACT, CAPSICUM FRUTESCENS EXTRACT, CARBOMER, OLEA EUROPAEA FRUIT OIL, HYPERICUM PERFORATUM
EXTRACT, GAULTHERIA PROCUMBENS LEAF OIL, PINUS SYLVESTRIS OIL, TRIETHANOLAMINE, UREA, LIMONENE*, LINALOOL*, EUGENOL*, GERANIOL*, CITRAL*
*natural component of essential oil
**from organic farming