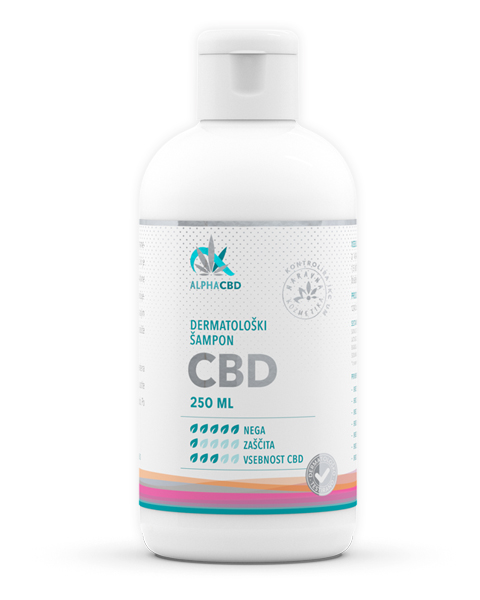 Dermatological shampoo CBD
daily care of very sensitive scalp prone to dandruff and seborrhea
+ 100% EFFICIENT NATURAL CARE OF SCALP AND HAIR
+ DERMATOLOGICALLY TESTED (PROVEN NOT TO IRRITATE)
+ CONTAINS 2 % OF INDUSTRIAL HEMP EXTRACT AND 1,5% CAPROYL/LAUROYL LACTYLATE
Dermatological shampoo CBD is a completely natural, dermatologically tested shampoo, developed especially for gentle care of the most sensitive scalp, prone to inflammations, seborrhea, itchiness and dandruff. In addition to active concentrations of bisabolol, menthol and sodium salicylate, this shampoo contains 2% of industrial hemp extract with high content of CBD (cannabinoid), as well as 1,5 % of caproyl/lauroyl lactylate which very efficiently and completely naturally prevents dandruff. Thanks to it gentle composition, Dermatological shampoo CBD is suitable for daily care of scalp and hair. Active components, with their gentle anti inflammatory effect, sooth and stimulate the scalp, leaving hair beautiful and healthy.
Application: Rub gently into scalp and leave for 1 minute. Wash thoroughly with warm water. Repeat if needed.
Dermatological shampoo CBD is:
– suitable for vegans;
– not tested on animals;
– without synthetic aromas, fragrances and essential oils;
– without synthetic cannabinoids, colours and mineral oils;
– without parabens;
– without synthetic solvents;
– without GMO;
– without petrochemical substances (paraffins, petroleum jellies, etc.).
HERBAL EXTRACTS: industrial hemp oil extract, with high content of CBD (cannabidiol)
OTHER: bisabolol, menthol, sodium salicylate
AQUA, COCO-GLUCOSIDE, GLYCERIN, POLYGLYCERYL-3 CAPRATE, CANNABIS SATIVA LEAF EXTRACT, CAPRYLIC/ CAPRIC TRIGLYCERIDE, SODIUM CAPROYL/LAUROYL LACTYLATE, GLYCERYL OLEATE, PCA GLYCERYL OLEATE, SODIUM SALICYLATE, XANTHAN GUM, TRIETHYL CITRATE, BISABOLOL, LITSEA CUBEBA FRUIT OIL, MENTHOL, SODIUM LEVULINATE, SODIUM ANISATE, CITRIC ACID, CITRAL*, CITRONELLOL*, GERANIOL*, LIMONENE*, LINALOOL*
*from natural essential oil